ABOUT Who We Are..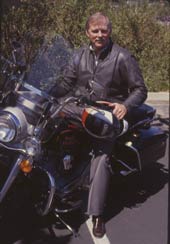 Letter from the President
Welcome to the American Motorcycle Specialties Internet web site. I started AMS for one specific reason--to continue to have fun in the Motorcycle industry. I've spent the past 30 years working and building lifelong relationships in this true enthusiast's realm, and I am passionate about it. I have seen many innovative new products over the years. My long experience helped when developing the lineup you see here.
Joe McNeill, President
We are also proud to offer our replacement SeatCoverz™. The lineup consists of more than 500 models to choose from. This comprehensive line of "high quality" replacement seatcovers includes Street Bikes, Off Road, Dual Purpose/ATV/ATC and Snowmobile. Check the convenient menu for your make and model.
If you would like to share your thoughts directly with me about our Web site or products, I welcome your email at: help@amspecialtiesusa.com
As a regular user of the Internet myself, I value my privacy. The information that you provide when ordering from us is secure and used solely for internal purposes. We will not sell, rent or give away mailing lists or e-mail addresses.
I hope you share my excitement and enthusiasm for the comfortable gel pad products we are introducing right here--especially since we "invented" most the new, features. The custom cover fabrics, color selections,contour memory pad and revolutionary Saddlegel™ make our gel pads the most innovative riding comfort product available. I think you will agree it is well beyond anything else that is currently offered in the marketplace.